FA Premier League
Sat 25th April 2009 @ 3pm, KC Stadium

Sexy football it wasn't but Liverpool, despite nerves and a generally average performance, slotted 3 goals past 10 man Hull to keep themselves in with a title shout.
Aurelio was made to pay for his defensive mistake against Arsenal as Insua came in to the side.  Riera was also dropped and Lucas Leiva returned.  Skrtel replaced Agger in the other change.
The reds opened brightly, Yossi Benayoun the reds main danger man creating a chance for Torres which was tipped over before creating himself a chance which also went over the bar.  But after 10 minutes Liverpool went off their game.
The pitch still had the rugby 10 yard markings on, and it definitely shows.  If Hull are attempting to play football on that pitch no wonder they are were they are now.
But the state of the surface was the least of the reds problems as nerves and defensive jitters were on display.  The reds can consider themselves lucky most of Hull's players failed to attend 'finishing' school, although the reds generally restricted them to attempts from outside the box.
Just as half time was upon us Mascherano won the reds a free kick.  Initial reaction was that it was unjust and Hull's fans and players let it be known, but on reflection after slipping Mascherano was then kicked in the ankle. A foul in anyone's book.
Alonso fired the free kick straight at the wall and with the rebound smashed the ball in to the net.  The perfect time to score.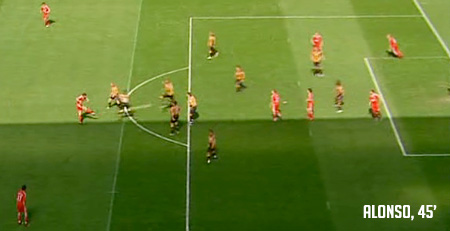 The second half started marginally better for the reds with the passing quality improving a notch.  When Skrtel put himself in front of Folan, the Hull player decided to first pull Skrtel back by the head, before aiming a kick in to his chest as he was tumbling over. Hull fans clearly hadn't seen the incident and were outraged when the player, rightly, got sent off.
Despite the sending off increasing the noise at the stadium, the reds grabbed the second minutes later thanks to Dirk Kuyt. 2-0 up and the reds should have been considering handing some players a rest – but Hull made it interesting when Insua failed to track Geovanni who gave Hull some belief.
Liverpool let the fans panic a bit until the 89th minute when Dirk Kuyt made sure of the points and moved Liverpool, briefly, back to the top of the Premier League.
Four games to go. Starting to get a bit sad about that.
Post Match Reaction
Rafa Benitez:
(pleased with Kuyt) "Everybody is very pleased for him.

"Kuyt is a fantastic professional and is always working hard to score. He was very positive and we are really pleased for him.

"We were working very hard and we have to be satisfied. We were nervous because the pitch was terrible and difficult to pass on."
Phil Brown, Hull City boss:
"We were having to pick players up at half-time after an injustice was done.

"We knew it was going to be tough and somebody has let them off the hook. I cannot see a free-kick there.

"I have no excuses for the sending off. I feel it was justified and it will be dealt with in-house. That killed us, 10 against 11, and Caleb made it a little bit easier for them."
Team News
Liverpool: Reina, Arbeloa, Carragher, Skrtel, Insua, Kuyt (Dossena 90), Alonso, Mascherano (El Zhar 84), Benayoun (Agger 87), Lucas, Torres.
Subs Not Used: Cavalieri, Riera, Aurelio, Ngog.
Booked: Arbeloa.
Goals: Alonso 45, Kuyt 63, 89.
Hull: Myhill, Ricketts, Zayatte, Turner, Kilbane, Fagan (Mendy 62), Boateng (Manucho 79), Marney, Geovanni, Barmby (Cousin 62), Folan.
Subs Not Used: Duke, Hughes, Garcia, Halmosi.
Sent Off: Folan (59).
Booked: Marney, Barmby, Fagan.
Goals: Geovanni 72.
Att: 24,942
Ref: Martin Atkinson (W Yorkshire).
Hull City 1-3 Liverpool – In the Forum
Pre Match Thread
In game Match Thread
Post Match Thread