Liverpool sank to their 2nd defeat in the opening three Premiership games – matching the number of defeat accrued in the entire season last time round with an insipid display at Anfield.
The reds can look harshly at the referee but a free kick, a corner and giving away a foolish penalty saw an end to any chance of Liverpool collecting points from this game.
Aston Villa's defence and Brad Friedel put up a magnificent rear-guard action as Liverpool suffered the same old problem of failing to break down teams at Anfield.
It all started so well when within the first minute Benayoun's header went narrowly wide and minutes later a goal-line scramble was eventually defended by the Villans thanks to Brad Friedel's outstretched leg.
Liverpool were giving away some needless set-pieces, just like against Stoke, but Villa's first was against the run of play. A free kick was awarded to them outside the box and Luke Young's cross was inadvertently headed in by Lucas Leiva.
And as Liverpool went for the equaliser a critical decision went against the reds. With the recommended injury time over, Villa were awarded a corner which looked like it should have been a goal kick. Reina was so infuriated by the decision that he earned himself a yellow card by kicking the ball away. From the corner Curtis Davies outjumped Carragher and Gerrard to head the ball home.
HT: 0-2
The second half, meekly inspired by a slightly more awake Anfield, Liverpool dominated.  The first 15 minutes saw a barrage of chances for the reds as red waves funnelled towards the Kop. But Villa's defence and Brad Friedel held firm in this testing period.
Friedel tipped over, Kuyt headed the ball on to the post, and then in the 72nd minute Fernando Torres put the ball in the net after an excellent cross from Emiliano Insua.
But just as Liverpool had a chance of getting back in the game Steven Gerrard gave away a penalty after bringing down Reo Coker and Young fired home from the spot.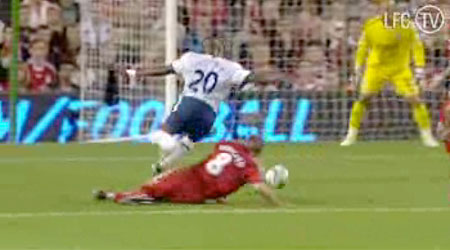 Liverpool had changed their system to 4-4-2. Gerrard dropping back to midfield to make way for another striker.
But Liverpool's bench is too weak. When you are relying on players like Ryan Babel and Andriy Voronin to get you out of trouble then you know something has gone wrong in Liverpool's summer of transfers.
Our Man of the Match
Nobody had a particularly fine game for the reds. By a narrow margin we've plumped for Javier Mascherano. (Vote for your man of the match here in the forum)
Post Match Comments
Rafa Benitez:
"We now know that we have to go to Bolton on Saturday and win."Everything could change if we do that, our confidence will improve.

"This squad is virtually the same as last season so I believe it is good enough to mount a title challenge."

"We were not playing well, and we were up against a team who are excellent on the counter-attack."Their goalkeeper Brad Friedel made some great saves, but when that happens we just have to make more chances.

"We will have to sit down and analyse every player now, and make sure we do the right things in our next match. But our senior players must take more responsibility."

"In the first 20 minutes we created plenty of chances and played well," he explained. "Then we conceded the own goal and started to make more mistakes.

"We have lost and we know we have to improve. I felt we had a chance when Torres scored, but the penalty finished it. It was a clear penalty."
Team News
Liverpool: Reina, Insua, Carragher, Skrtel, Johnson, Gerrard , Benayoun (Babel 75), Leiva (Voronin 66), Mascherano, Kuyt, Torres
Subs not used: Cavalieri, Kelly, Dossena, Ayala, Riera
Goals: Torres 72
Booked: Reina, Skrtel, Torres
Aston Villa: Friedel, Davies, Shorey, Beye, Cuellar, Sidwell, Young (Heskey 80), Milner, Petrov, Reo-Coker, Agbonlahor
Subs not used: Guzan, Albrighton, Delph, Gardner, Lowry, Delfouneso
Goals: Lucas (og 34), Davies (45+2), Young (75)
Yellow cards: Young, Reo-Coker
Referee: Martin Atkinson

Attendance: 43,667