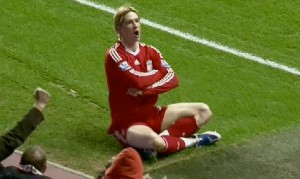 Liverpool started February in much brighter mood after a late victory ensured Liverpool got a deserved Premiership double over Chelsea – the first time since the title winning side of 1989/90.
Chelsea ended with 10 men, although could count themselves lucky they didn't end up with 9 in a game in which Liverpool dominated from start to finish.  Chelsea fans may be aggrieved that Lampard was shown his marching orders, and admittedly I do have a small tinge of sympathy about the decision but it fails to explain the fact that Liverpool outshone Chelsea both with and without Lampard on the pitch.
As Robbie Keane watched on from the stands, with Tom Hicks and George Gillett also in attendance the reds set out their stall early – playing high up the pitch and denying Chelsea any room to manouevre.
As the snow drove down at Anfield, the reds started the game hungry for all three points and defender Alex made a couple of great blocks to stop the reds setting a first half lead.
An Alonso drive was tipped over by Cech, before he failed to clear a Mascherano attempt.  An attempt at bringing the ball out nearly ended in Blue tears as the reds almost took the ball off him as he tried to clear.
Towards the end of the first a Riera strike had to be cleared by Ashley Cole behind for a corner.
The game had seen a few yellow cards and on the 60th minute mark Frank Lampard was sent off for a high challenge on Xabi Alonso.  In the interest of balance it was admittedly a harsh decision but the referee was well placed and there is little question it was a foul.  Lampard and Alonso's chequered history continues.
In the resulting melee John Terry also got a deserved yellow card.  Once again Chelsea's hounding of referee's left an ugly taste in the mouth.
Liverpool had continued the second half in the same vein as the first – total domination.
Benitez made a couple of attacking substitutions – replacing Riera with Benayoun and Mascherano with Babel.
It looked like Liverpool were going to suffer another harsh draw but Fernando Torres rose to Aurelio's 88th minute cross and headed past Cech to send the Kop in to jubilations.  Finally Chelsea would have to try and attack.  Within minutes the reds doubled their lead when Ashley Cole forgot how to defend and Torres lashed home his second of the game.  The reds should have had a third but the referee ended the game early to spare Chelsea's blushes.
A fully deserved win.  The reds move back to 2nd, two points behind United.
Fernando Torres 88th min
Fernando Torres 93rd min
Rafa Benitez Post Match Interview
Fernando Torres Post Match Interview
Teams
Liverpool: Reina, Arbeloa, Carragher, Skrtel, Aurelio, Kuyt, Alonso, Mascherano (Babel 83), Riera (Benayoun 74), Gerrard, Torres (Ngog 90).
Subs Not Used: Cavalieri, Dossena, Agger, Leiva Lucas.
Booked: Mascherano, Alonso, Gerrard, Arbeloa.
Goals: Torres 89, 90.
Chelsea: Cech, Bosingwa, Alex, Terry, Ashley Cole, Ballack, Mikel, Lampard, Kalou (Stoch 85), Anelka (Drogba 69), Malouda (Deco 69).
Subs Not Used: Hilario, Ivanovic, Ferreira, Mancienne.
Sent Off: Lampard (60).
Booked: Ashley Cole, Mikel, Terry.
Att: 44,174
Ref: Mike Riley (Yorkshire).