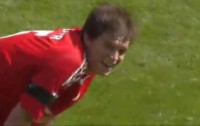 FA Premiership
Sat 11th April 2009, 12.45pm @ Anfield

Sam Allardyce had suggested before the game that Blackburn would expose Liverpool's weaknesses and that Rafa had been whinging and moaning about Ferguson.
He may considering keeping his own mouth closed in future, after Liverpool bounced back from the midweek disappointment to temporarily re-take top spot in the Premiership, and brush aside a Blackburn side who may well get sucked straight back in to the  relegation fight.
Liverpool were awesome, Blackburn were atrocious.
It was a bright sunny day at Anfield and before the game an impeccably observed minute's silence took place – in honour of the 96 Liverpool fans who were killed 20 years ago this coming week at Hillsborough.
The reds delivered a result befitting the pre-match commemoration.
Steven Gerrard was rested on the bench, and Agger returned to the side, displacing Skrtel who has been in poor form since his international return.  Emiliano Insua grabbed another league start at left back, and Mascherano came back in to the reds side.  Benayoun was the man chosen to replace Gerrard.
Within 5 minutes the reds were 1-0 up after Carragher sent a ball in to Torres who controlled, turned, and lashed a beautiful strike past Robinson in the Blackburn goal.
Only minutes later either he, or Mascherano should have doubled the reds lead but Blackburn were lucky to escape after Torres put Javier's rebounded shot over.
It wasn't long before Liverpool doubled their lead, when an Alonso free-kick met the head of Nando who powered the ball in to the net for his 14th goal in a stop-start season.
Liverpool continued to dominate from the start of the second half, and Daniel Agger, scored one of his left footed pile drivers when he advanced towards the Blackburn goal.
In the dying minutes a looping Lucas header was heading towards the goal before David N'Gog got his head to it to snatch the goal.
Another comprehensive Liverpool victory.
Team News
tba
Liverpool 4-0 Blackburn – In the Forum
Pre Match Thread
In game Match Thread
Post Match Celebration Thread