FA Premier League
Sun 17th May (1.30pm) @ The Hawthorns

Liverpool relegated West Brom with a 2-0 win in a performance that was under par to that of recent weeks.  However, losing the title obviously had an effect on the deflated Liverpool players, who did well to quell a Baggies side determined to try and stay in the Premier League. As it was, poor finishing is what has done for a West Brom side who play some decent football.
The reds drew first blood when Steven Gerrard capitalised on the West Brom defence dwelling on the ball.  He took the ball off the defender before powering down on goal and firing home to give the reds a first half lead.
It was Gerrard's 24th goal of the season, and that is a personal record for the Footballer of the Year.
Fernando Torres had a number of chances in the game but failed to convert any of his chances on a decidedly off day for our number 9.
It was Dirk Kuyt who doubled the reds lead. From a pass off Gerrard, Kuyt worked his way to the edge of the box before firing a low shot in to the corner of the West Brom net.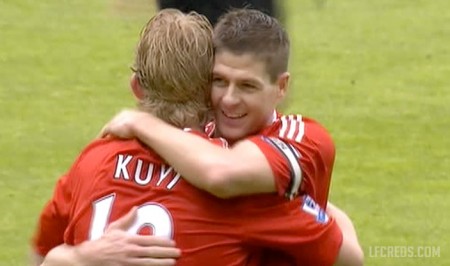 Liverpool huffed and puffed towards the end of the game, some sloppy finishing from Babel which could have added a third, and the reds took their foot off the gas.  West Brom had a goal disallowed for offside and it got worse when Carragher was furious with some sloppy defending from Arbeloa.  Carra and Arby had to be separated by other members of the team before the referee instructed them both to shake hands.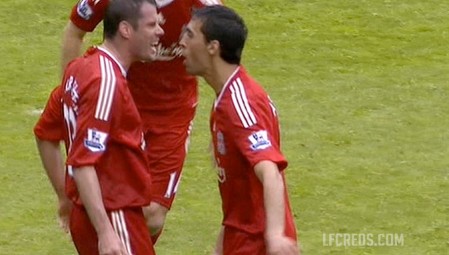 Liverpool make that 83 points – their highest ever Premier League points tally and with a game to play are practically guaranteed finishing in 2nd place. The reds may have just come up short, but they can be proud of the improvement this season.
Post Match Comments
Rafa Benitez:
(On the Arbeloa-Carragher row)

"You could see Carragher and Arbeloa because we wanted a clean sheet and they were a little bit nervous.

"Arbeloa was going forward and then we had some problems in defence. We wanted to protect Pepe Reina because now I think he has 20 clean sheets – van der Sar has 21.

"It's a positive message in terms of the mentality of the team. We wanted to show character and a winning mentality.

"We were looking for some targets: 83 points, a club record in the Premier League; 13 victories away – also a record. We also wanted to score goals and keep a clean sheet and for us I think this guarantees second position. We also wanted to stay as close as possible to United."

(On the title charge and why we didn't win it)

"Small details, little things.

"We have talked about the draws. Against Stoke we scored in the first minute and it was disallowed. It could have been different with the form we've been in at the end of the season.

"United have quality – especially on the bench. Against us they had Scholes, Giggs and Berbatov on the bench. You can change two or three players easily. We have less of these kind of players, though I am really pleased with my squad and really proud of what we've done this season.

"I will say congratulations to Manchester United – it's a good club, a big club."
Team News
Liverpool: Reina, Arbeloa, Agger, Carragher, Insua, Mascherano (Alonso 50), Kuyt, Gerrard, Leiva, Benayoun (Ngog 72), Torres (Babel 67)
Subs Not Used: Cavalieri, Dossena, Riera, Skrtel
Goals: Gerrard 28, Kuyt 65
West Brom: Kiely, Zuiverloon, Martis (Borja Valero 56), Olsson, Donk, Brunt, Mulumbu (Moore 68), Greening, Koren, Menseguez, Fortune.
Subs Not Used: Carson, Filipe Teixeira, Meite, Simpson, Wood.
Booked: Greening, Olsson.
Att: 26,138
Ref: Martin Atkinson