FA Premier League
Sat 9th May (5.30pm) @ Upton Park

Fernando Torres and Steven Gerrard both played for only the 12th time this season as Liverpool yet again demolished a team in the Premier League without breaking sweat, to take Liverpool back to the top of the Premier League, albeit on goal difference.
Within the first minute the reds had the lead after Steven Gerrard cooly went round the keeper and placed the ball in to the net.  Simple but brilliant football.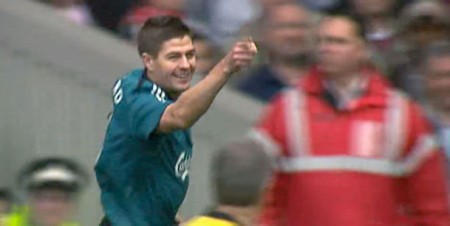 Torres himself was brought down in the box as half time approached and up stepped Gerrard for the penalty.  The pen was saved but the captain was the quickest to react and put the ball away from the rebound.
Similar heartache for the Hammers keeper later on when Babel fired a shot which was saved only to then put the rebound in the back of the net to give the reds their customary 3rd goal.
With Alonso out through injury, Lucas and Mascherano did a terrific job in the central midfield.  The Liverpool engine looks so finely tuned now that even replacing the cogs in the machine has little effect on the overall outcome of fixtures.
Post Match Comments
Rafael Benitez:
"When you come to tough places like West Ham, it's important to go in front and we did that. Looking at the game, we deserved to win."

"We have done our job. We have to keep winning, that's all we can do,"

"We needed to get three points and put them (United) under pressure, and now we will be cheering and supporting City,"

"United will have a difficult game, a derby is a derby."
Team News
Liverpool: Reina, Arbeloa, Skrtel, Carragher, Aurelio (Insua 54), Benayoun (Dossena 82), Mascherano, Lucas, Gerrard, Kuyt, Torres (Babel 72).
Subs Not Used: Cavalieri, Hyypia, Ngog, Degen.
Booked: Aurelio, Mascherano.
Goals: Gerrard 2, 38, Babel 84.
West Ham: Green, Neill, Tomkins, Upson, Ilunga, Boa Morte (Payne 80), Noble, Kovac, Stanislas (Collison 59), Di Michele (Sears 70), Tristan.
Subs Not Used: Lastuvka, Lopez, Nsereko, Spector.
Booked: Boa Morte, Kovac, Di Michele.
Att: 34,951
Ref: Alan Wiley (Staffordshire).