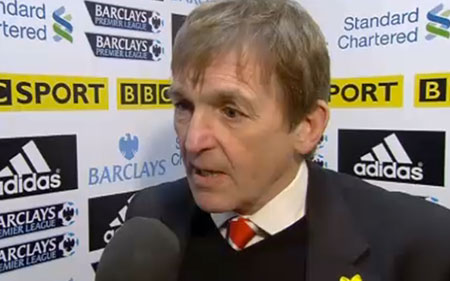 Liverpool demolished Manchester United at Anfield in the early afternoon kick off.
Luis Suarez tore the Mancs apart although the game will be remembered for a Dirk Kuyt hat-trick – the first LFC hat-trick against United since Peter Beardsley's triple in 1990.
The game however belonged to Suarez, a constant thorn in United's side that they failed to plug.
After total domination for the first half hour, on the 34th minute Suarez sliced past three United defenders before Kuyt got the last touch in the net.
Liverpool were not done there – and just before half time Suarez' cross was sent back in to the 6 yard box by Nani before Kuyt once again pounced – heading in from 5 yards out.
Just before the whistle Nani was tackled by Carragher, but he managed to jump to his feet – hobble 15 yards around the referee before falling at his feet.  Carragher received a yellow. Nani was stretchered off.
Seconds later and Rafael handed a two-footed tackle to Lucas – reminiscent of Gerrard's sending off earlier this season. But Rafael, as expected, was not forced to walk and instead handed a yellow card.
Liverpool sat back for the opening 15 minutes of the second half, but soon enough the reds realised that this United side was there for the taking.
A superb Suarez free kick on 65 minutes could only be parried by Van der Saar, and once again Kuyt was on-hand to complete his hat-trick.
In the latter stages the reds fans' sang Happy Birthday to the recently turned 60 Kenny Dalglish, before Hernandez scraped a late headed goal for United.
But it was all too-little, too-late in a game Liverpool dominated.