Liverpool were held to another Anfield draw by a resolute Spurs defence, in a game that saw the return of Luis Suarez.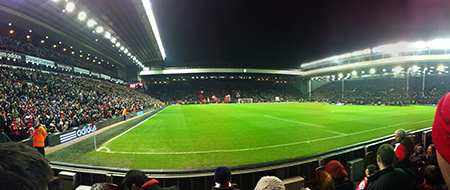 As the fog moved in from the Mersey in the hours before kick off, news filtered out that dependable left back Jose Enrique would be out of the side with a suspected hamstring injury.  Glen Johnson moved to left back with the ever reliable Martin Kelly brought in at right back.
Steven Gerrard also returned to the side – Jordan Henderson the man to make way, and Luis Suarez was named on the substitutes bench.
The first half was a sterile affair, brightened only by the appearance of a cat on the Anfield turf.  Glen Johnson was finding plenty of opportunity to get forward despite having Gareth Bale on his wing, and it was Glen who forced the most work out of Brad Friedel.
Second half saw things liven up.  Gareth Bale reacted angrily to being called a diver by Daniel Agger and the Welshman was eventually booked, after being restrained by international teammate Craig Bellamy.
Just before the hour Martin Kelly found himself some space and his shot required a good save from Brad Friedel to tip wide.
With around 25 minutes to go, Suarez came on to replace Kuyt.  Suarez was booked moments later when he kicked Parker instead of the ball inside the Spurs penalty box.  Martin Kelly sent in a cross but Carroll fired over, snapping at the shot.
At the other end Bale made a great run to beat the offside trap but when faced with a one on one with Pepe Reina, the welshman attempted to put the ball through Reina's legs.  Pepe stopped the ball and the reds cleared.
As the clock ran down, Suarez had a great chance to score what would have been a fair winner.  Gerrard sent the ball over and Suarez had a clear header – but put it right towards Friedel.  Either side and it would have been 1-0.
Liverpool will be disappointed with another draw but unlike earlier this season, they were in no way inferior to the men from the Lane.
Liverpool move to 4 points behind 4th placed Chelsea.  Man United at Old Trafford up next.