Liverpool put Everton back in their box, ending a run of three draws against the old enemy, with a comprehensive 4-0 demolition.
The game had been built up as one of the biggest in recent years, both sides separated by just a point in an epic battle for not just bragging rights but a potential Champions League qualifying place.
But not long after the half hour mark the game was effectively over, Liverpool scoring three times in a 14 minutes spell in the middle of the first half.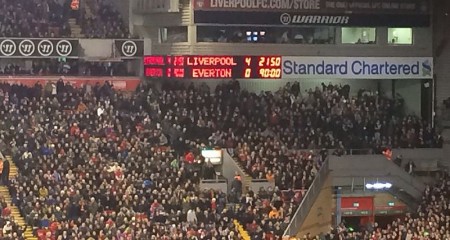 Liverpool's injuries meant that the team was a fairly obvious selection, the reds again restricted to just two usual midfielders in the side - giving Liverpool fans flashbacks of the previous dull performance against Aston Villa.
However, Gerrard was in no mood to repeat that performance, and he gave a captain's performance - chasing down any movement from Everton's central midfielders, and taking the opening goal with some gusto.
Suarez shook off the coins raining down on him from the Everton fans, to send in an exquisite corner which Gerrard powerfully headed into the net.  Gareth Barry managed to take out the other toffee loanee Lukaku while Gerrard was powering the reds into the lead.
Everton that.
The goal failed to spark any response from Everton, and Liverpool's through balls were slicing the blues open.  Raheem Sterling had been unlucky not to open the scoring earlier, but Daniel Sturridge wouldn't waste a similar opportunity.  Coutinho's ball was fed through and with his trademark cool - Sturridge doubled the reds lead.
Moments later Toure found the England hitman and he lobbed a beautiful finish over Tim Howard.
The reds were given a standing ovation as they trotted off for their half time teamtalk.
Straight out of the blocks in the second half and Luis Suarez snatched the ball off Phil Jagielka, and applied a cool finish of his own.  Giving the Kop faithful a chance to see a derby goal up close and personal.
When Raheem Sterling was felled by TIm Howard moments later, the referee pointed to the penalty spot.
Gerrard, feeling generous, offered the ball to Daniel Sturridge.  But a Merseyside derby hat-trick would have to wait as he skied the penalty into the Kop.
The penalty miss took a little of the sting out of Liverpool's attack, and in the end, 4-0 probably flattered Everton a bit.