The first half was dismal.  The second half marginally better.  But Villa held on to their deserved early lead to continue their good recent form at Anfield and move into second place.  For Liverpool this was the second defeat of the four-game old season.
Brendan Rodgers handed out four Anfield debuts - Markovic, Moreno, Balotelli and his first game for Liverpool - Adam Lallana.
In retrospect it may have been one or two too many.  Liverpool lacked the intensity that has defined them over the course of 2014.  Coutinho, who was playing for Brazil on Wednesday across the Atlantic was picked.  Sterling, who played on Tuesday in Switzerland was rested.
As is typical when players get rested - they end up being forced to get involved - although Sterling did only have the half hour.   Was Liverpool's main focus on Tuesday night's game against Ludogorets? Who knows.  If it was then Liverpool need to change their mindset quite quickly - more of that attitude will hamper our ability to play in the competition in seasons to come.
Initially Balotelli and Coutinho were occupying the same areas up front, but Villa dominated early on.  Coutinho became an extra man in the middle as Gerrard and Henderson failed to garner control of the ball.
Villa were getting corners, a few of them, and in the 9th minute they broke the deadlock in front of the Kop.  For all the attacking verve that Rodgers has instilled, no matter who the personnel, the coaching staff are unable to get the players to defend set-pieces.  The corner was a poor one to give away by Sakho but that is no excuse for what came after.
The corner came in - Lovren was out of position, Coutinho was nowhere near Senderos's header, which fell to Agbonlahor (Manquillo also the wrong side) and he managed to force it into the bottom of the goal (past a slipping Steven Gerrard).
Lesson learned? No.  Moments later a cross came in from a free kick nearer the half way line.  Senderos pulled away, no Liverpool player near him, and headed over.  It could have been game over within the opening 15 minutes.
Balotelli was isolated up front - and was in no rush to get back to win the ball.   A couple of times away from the referee's glare Senderos got stuck in to the Italian, but for the most part he kept his cool.
He is an entirely different player from Suarez.  His main ability is in holding up the ball - but we need goalscoring midfielders to weigh in with this strategy and the whole team had left their shooting boots on the coach.
Lallana had the best chance of the first half from a Mario knock-down, but it was wide.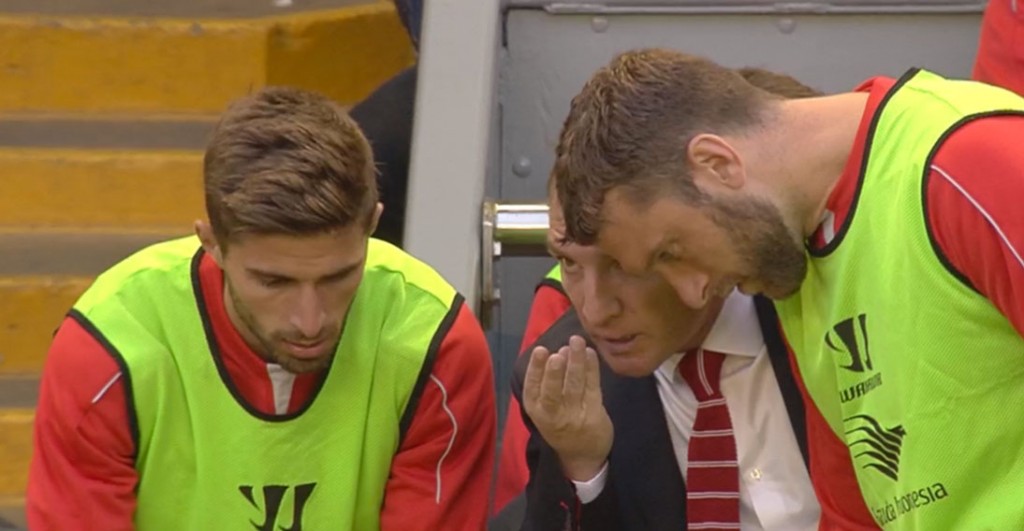 Little changed early on in the second half - on the hour Sterling came on for Markovic and he improved Liverpool's attacking intent - although by now Villa looked content with the 1-0 and were retreating themselves.  Lambert and the unwanted Borini (codename 'Lambrini') were sent on with 20 minutes left but they made little difference to the slow drifting conclusion to this game.
After the reds demolition of Spurs a fortnight ago this wasn't expected.  Internationals could be blamed, impending European Cup return could be blamed, the dismal atmosphere at Anfield could be.  Liverpool fans will be hoping it is one of those things and that normal service will be resumed soon.
The reds face Ludogorets Razgrad at Anfield on Tuesday evening.