Luis Suarez scored his 20th League goal of the season as Liverpool moved back into the top four on New Years Day.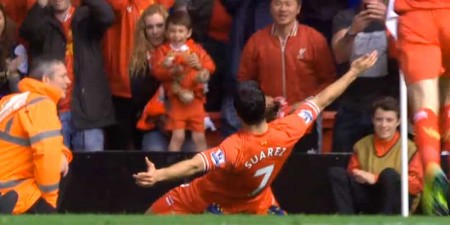 Liverpool welcomed Steven Gerrard back to the bench after a shorter than anticipated injury absence, and Iago Aspas was given a rare start such are the extents of Liverpool's injury list.
It was a performance lacking in the usual vigour of recent Anfield performances, no doubt the punishing festive period has took the wind out of Liverpool's sails. However, after two away defeats it was vital the reds banked the points - and this game was most definitely all about the points.
Suarez was praised after the game by Brendan Rodgers for playing through the pain barrier - and he put the ball in the net first at Anfield. Sadly his header from a Coutinho free kick was adjudged offside and chalked off the record.
Coutinho was on hand with another set-piece to officially break the deadlock.  His corner was met by Daniel Agger who headed home.
In the 50th minute Suarez was felled, and his reward was to take the free kick - which he dispatched with the kind of effortless skill expected of one of the World's greatest footballers.
Steven Gerrard made his return mid-way through the second half - collecting the captain's armband from Daniel Agger to thunderous applause.  Liverpool have looked more than capable without their club captain - the extra pressure this may place on Gerrard may set him up for an enterprising final 18 matches this season.
This was no classic at Anfield, but thanks to Everton's draw at Stoke, the reds move back in to the top four.
A gap has opened up from the top three who look like title candidates.  Meanwhile Liverpool, Everton and Spurs are separated by just two points in a riveting chase for the prize of a Champions League Qualifying place.
Next up in the League, Liverpool travel to Stoke City - but first they must navigate Oldham in the FA Cup at the weekend.