I first glanced at the clock eight minutes into the game at Anfield.  I don't think Liverpool had won a challenge.  It was men v boys and the men were not the home side.
Already it looked like an uphill struggle.
The reds, unchanged from the narrow victory over Swansea, had just enjoyed a huge 6 days break.  Only their second week of the year without a midweek game.  And again, just like Swansea, they looked laboured.
At home to Man United (with the potential to go 4th and leapfrog their neighbours) it was hard for many fans to believe what they were witnessing.  The reds were rolling over and allowing Fellaini the freedom of the pitch.
It was no surprise that United took the lead so early in the game.  Mata fired in after 14 minutes.
Sterling and Sturridge had been spectactors for most of the game.  Moreno - nowhere near Mata, Allen - nowhere near Fellaini.
Adam Lallana was running into blind alleys.  He did have one glorious opportunity but fired wide when it would have been easier to force De Gea into a save.  The first half ended with Lallana trapped near the corner flag twisting and turning, but nobody was interested and he eventually managed to dummy the ball out for a throw in.  It summed up the game.
Half time and Rodgers made a change.  He could have made three but stuck with the one for now.  It was Steven Gerrard on for Lallana.  The Liverpool captain had already responded to the taunts from United fans by holding up the five fingered salute on one of his training run forays towards the visiting 'fans'.
Within 38 seconds of the second half starting the Liverpool club captain was heading back down the tunnel - passing the armband back to Henderson.
His stamp on Herrera after the United player lunged at him was deserving of a red and he will now miss the next 3 games - including a trip to Arsenal and an FA Cup quarter final replay.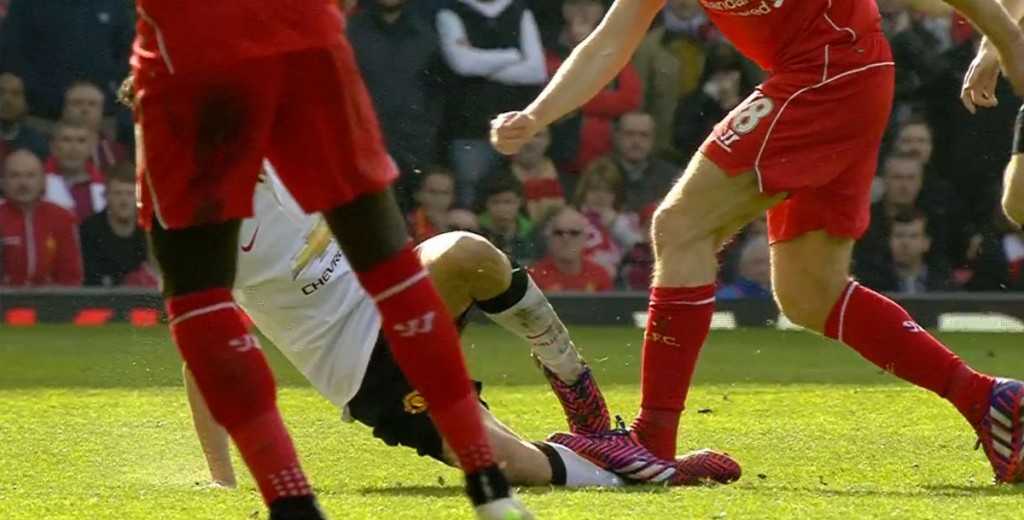 United's initial swarm against ten men was contained but fifteen minutes later they sealed the game when Mata was given far too much space in the box and fired an overhead kick inside the far post.
Liverpool brought on Balotelli and this improved Liverpool's play - although no doubt combining with United taking their foot off the gas.
Daniel Sturridge looks a different player when he has a strike partner on the pitch - it could just be that he has a little more space - and space he found in the 69th minute when he fired in from a narrow angle inside the box.
The goal however always looked like a consolation rather than a lifeline.
Martin Atkinson's decision making in general appeared to favour the away team - Phil Jones in particular appears to be cultivating a career of avoiding discipline by making his nasty challenges look as clumsy as his facial expressions.  No matter - Gerrard's challenge was reckless and Martin Skrtel may also face further punishment after a late incident involving De Gea.
Liverpool are 5 points behind 4th placed United - but accounting for goal difference it is effectively a six point gap.
The top four look well set to cement themselves in for the next 8 league games.  Next up for Liverpool fans - the peril of the international break.