Liverpool grabbed a hugely important victory over Spurs, but they needed to go ahead 3 times to ensure they left with all of the points.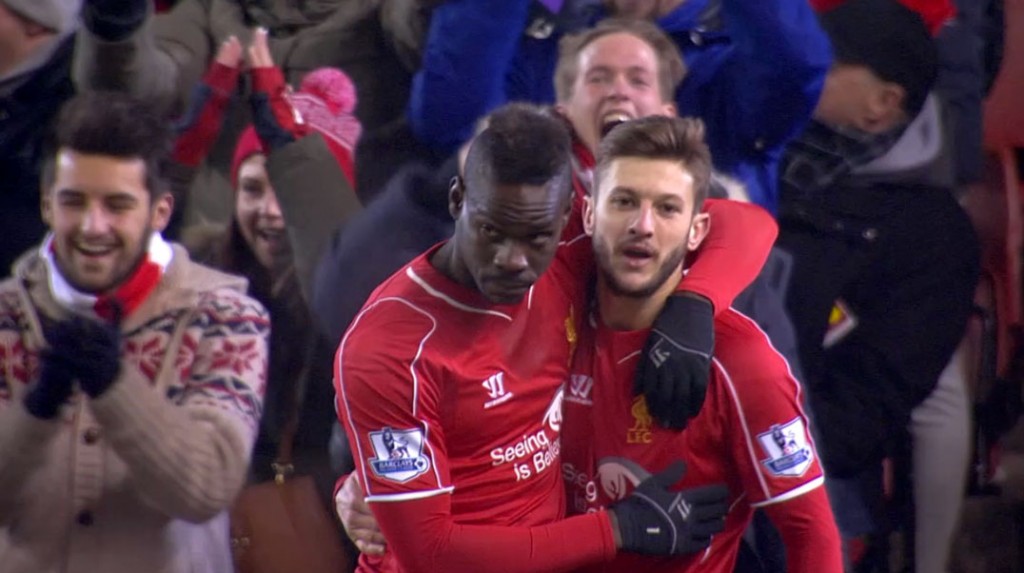 Lazar Markovic scored early on before Harry Kane levelled.  Gerrard dispatched a penalty before Spurs again levelled - this time controversially through Dembélé.  The stage was set for late substitute Mario Balotelli to replace Daniel Sturridge and score the winner with just over 5 minutes left.
The pre-match team news was that Lucas would be missing for around a month - Sterling also missed out after sustaining a foot injury in the derby.  Gerrard retained his place - returning to defensive midfield.  Sturridge started his first game for 5 months and Markovic also returned to the side.
From the off both sides employed determined pressing tactics and both sides looked to move the ball quickly.
It was the reds who opened the scoring - Lazar Markovic firing a low drilled shot in to the bottom corner.  Spurs hit back 10 minutes later.  With the reds determined to press - Can moved forward but the ball had already moved past him - Kane executed a fine turn before firing past Mignolet.
In the second half, as Sturridge powered into the Spurs box, he was brought down.  Rotund referee Phil Dowd wasn't interested but the assistant was furiously waving his flag - and the ref pointed to the spot.  Steven Gerrard, who otherwise had an ineffective game, stepped up and as usual fired the penalty in. His 10th goal of the season, 5 of them from the spot, and his 183rd goal for Liverpool - equalling Robbie Fowler's tally.
Spurs went straight on the attack - Mignolet with a magnificent save to tip the ball over the Kop goal.  Spurs were awarded a soft free kick and despite Harry Kane being offside, the ball made it's way to Dembele who got the final touch.
2-2.
By now Sturridge was tiring on his first full start back - Gerrard had hamstring trouble.  Lovren was brought on for the captain. Balotelli and Lallana came on for Markovic and Sturridge.
In the 85th minute Lallana broke - he fired the ball across the face of the 6 yard box and Balotelli pounced to score a long long overdue goal in the Premier League.
With Liverpool set to face Southampton, Man Utd and Arsenal in the upcoming weeks - the reds must have more results like tonight.