Saturday 30th August 2003
DERBY WHITEWASH: POST MATCH COMMENTS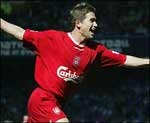 KEWELL: 'It was a good team performance by everyone. We have been playing well but haven't scored - well until today'
'I've never played in a derby like this - the fans were fantastic.
(asked what his role in the team was)
'Just play. Create chances - and to score goals, well everyone loves to score goals and if I can it's all the better for me and for the team'
OWEN: 'I didn't have a good record here a while ago but in recent years I have done well. They played for the point, with men behind the ball and we punished them for it.
'(in the last few games) We have created a couple of chances - but today we were looking for more through balls. We had a lot more chances than previous games.'
'We go away on international duty now, a couple of weeks off from club football and it's nice to have the break. We have been under a little bit of pressure. But its good to go away on a high note.'
HOULLIER: 'It was a special day for the fans - the players deserve a lot of credit. At last we got a performance and result that they deserved. They have been working in a difficult atmosphere. But the players have kept their heads held high. We had a very adventurous formation for an away derby game, wescored goals from open play and we kept a clean sheet.
(asked was the team a gamble)
'The team was not a gamble, the Tottenham game gave me reassurance as we had a lot of attempts on goal, looked better in midfield and had more fluency in our game and were more solid at the back. Everton are a good side and played some good football at times. But today we deserved the win.'
(about Kewell)
'He works very hard for the team. He is a star player who is a team player.'
(asked if he will enjoy the two week break)
'I will enjoy the next two weeks! Today was a special day for everyone at the club. We were frustrated after the Tottenham game - but winning today has lifted all that.'
Anfield Online