Monday 7th July 2003
KEWELL READY TO JOIN BOYHOOD HEROES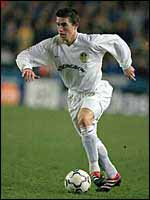 Harry Kewell is expected to complete a £7m move to Liverpool within the next 24 to 48 hours after snubbing last-ditch bids from Manchester United and Chelsea.
The long-running transfer saga looks set to reach a conclusion by Wednesday at the latest, with Leeds winger Kewell opting to join his boyhood heroes.
Kewell, who has turned his back on the offer of becoming Leeds' highest-paid player on £48,000-per-week, has apparently already agreed a £60,000-per-week package at Anfield.
The two clubs, who held talks over the weekend, remain in negotiations regarding a fee and the structure of the payments, although it is unlikely there will be any last-minute hitches.
Despite Liverpool's inability to offer Kewell Champions League football for next season, the chance to join the club he claims to have supported as a boy has proved too irresistible a lure.
Liverpool boss Gerard Houllier has pipped Arsene Wenger, Sir Alex Ferguson and Claudio Ranieri to Kewell's signature, demonstrating that the Merseyside club still has pulling power, regardless of the fact they are only in the Uefa Cup.
Arsenal initially missed out on signing Kewell as they were unable to find the cash, both in terms of transfer fee and wages, allowing Liverpool to jump in.
Manchester United and Chelsea are both understood to have made late offers for the 24-year-old Australian international, but have also lost out to the Anfield club.
Kewell has long secretly voiced his concerns about moving across the Pennines to Leeds' bitter rivals in Manchester United, while he was also apparently unhappy at the way Beckham was treated in relation to his move to Real Madrid.
Chelsea, despite being armed with the millions of multi-billionaire Russian tycoon Roman Abramovich, were still a less attractive proposition for Kewell than Liverpool.
The Guardian