Monday 7th July 2003
KEWELL TO WEAR THE SEVEN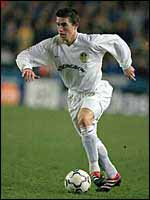 Even though he hasn't yet signed officially, Harry Kewell already looks set to wear the number seven shirt - made legendary by both Kevin Keegan and Kenny Dalglish.
In buying Kewell, for an estimated £7 million, Gerard Houllier has departed from his usual purchases and bought a truly attacking player.
We at Anfield Online have been admirers of Kewell for some time and believe he could re-ignite the creative side of the club although his youthful petulance would be best left at Elland Road.
Anfield Online