Wednesday 9th July 2003
LEEDS UNITED PLC FURY AT KEWELL DECISION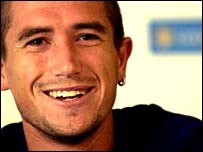 Leeds have admitted they will pay Harry Kewell £2 million to leave Elland Road.
The Australian international has completed a £5 million move to Liverpool, signing a five-year deal - but £2 million of that fee will go to Kewell and his advisors.
Leeds chairman Professor John McKenzie said he was "outraged" with the deal, saying that Liverpool had initially offered £7 million for Kewell - before his agent forced the Elland Road side to reduce the fee as they lost £4 million in a week on the winger.
And McKenzie, who said Kewell threatened to walk out of Elland Road on a Bosman next summer, told Liverpool's new signing he can never play for Leeds again as he launched a bitter attack on the 24-year-old.
"Leeds United confirms that it has accepted an offer from Liverpool Football Club for the transfer of Harry Kewell for £5 million in cash," the Yorkshire club admitted in a statement.
"In order to effect the transfer, Leeds United has had to agree to pay a fee to representatives of Kewell in the sum of £2 million. The board, having taken appropriate professional advice, felt that it had no option but to accept these terms given the context of Kewell's current contract.
"Kewell currently has only one year remaining of his contract with Leeds United. As such he would be in a position to sign a pre-contract agreement with another club in January 2004 and leave Leeds United at the end of the 2003/4 season without any transfer fee being payable."
A furious McKenzie said he let Kewell leave cheaper because he did not want the winger to go on a Bosman.
"The reality is that on Friday 4 July I agreed a deal of £7m with Liverpool Football Club, which Kewell and his agent refused to countenance," he told Leeds' official website.
"Instead they made a condition of not doing a Bosman that we pay £2m to Kewell's representatives, and Liverpool Football Club then reduced the fee to £5m. What happened to the remaining £2m, I believe I know, but only Liverpool or Harry Kewell could tell you.
"The PLC was therefore faced with the alternative of taking the net £3m (plus £2.5m in wages) to enable Peter Reid to strengthen the squad or getting next to nothing, if rather like Lee Bowyer, Kewell did a Bosman. And in Kewell's case, given his outburst on television and his indication he has been talking to Liverpool for six months, it would be impossible for him to play for Leeds ever again.
"So sadly the PLC felt it had no alternative but to accept the paltry sum.
"I believe that Kewell and Mandic have taken no account of the contribution Leeds has made to the player's development. This relates to the time and energy invested in Kewell by the management and coaching staff, we well as the fact that he has been in the elite group of our highest paid players.
"I am outraged that having threatened to walk away for nothing in 2004, they now seek to suggest that it is our fault that my PLC board felt the need to settle for such a small sum."
Sky