Thursday 6th November 2003
BECKHAM DOUBTS OWEN REAL MOVE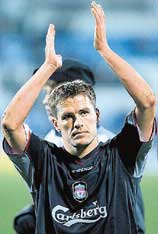 David Beckham has moved to dampen speculation linking Liverpool striker Michael Owen with a transfer to Real Madrid.
The England captain was responding to weekend newspaper reports which suggested that the Spanish champions were lining up a £25m swoop for Owen, who has admitted his concerns at the lack of Champions League football at Anfield.
Beckham, whose summer switch to Madrid has so far been an unqualified success, dismissed the reports as 'speculation', but admitted he would recommend the club to anyone.
'To be honest with you it's unfair for me to comment because he is a Liverpool player,' Beckham told a press conference today.
'There will always be speculation linking great players to great teams. But if anybody asked me if I enjoyed my time at Real Madrid I would say it's the best decision I have ever made. Of course he [Owen] could play in any team in the world.'
ESPN