Thursday 6th November 2003
ROUX ADMITS HE MAY HAVE LOST CISSE BATTLE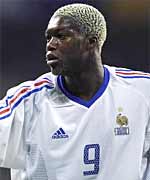 Legendary Auxerre coach Guy Roux may finally be buckling in the bid to hold on to star striker Djibril Cisse after admitting that the French international may leave the club in next year.
The veteran coach, who has been at the helm since 1961, was overjoyed that his status with Auxerre is such that the board were forced to rebuff enquiries for a superfluity of hot young commodities.
Most notably, the French club knocked back Liverpool's interest in Cisse, even after the player had revealed on numerous occasions that he was desperate to play at Anfield
"We've never been forced to sell players," said Roux.
"There were occasions when we sold players we didn't want to, nearly always because the player himself wanted to leave, like Cantona or Boli. So we made sure they left one year after they wanted.
"Now it's the same with Cisse. All of Europe thought he'd be off last year but he's staying. Next year, he could go. But if you have to sell, you are on the way down the slippery slope," he admitted.
Roux faces a fight to keep all of his young stars, with Jean-Alain Boumsong also rumoured to be heading to L4 in January, but it seems that Cisse would be the key loss for the veteran coach.
"Cisse can win a game on his own, something few players can do. Owen, Henry maybe, Ian Wright was another," said Roux.
"They don't need players around them. You just give them the ball and they go. We had to beat Boavista to reach the Champions League last season. They were all over us for the entire game and then Cisse picked up a loose ball, ran 20 metres and bang! One-nil, and we qualified."
LFC Site