Monday 10th November 2003
HOULLIER UNDER PRESSURE TO QUIT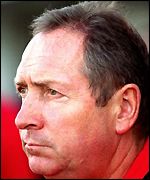 Gerard Houllier has said he is under pressure to quit Liverpool following his side's third defeat to a title challenging side.
The Reds' Premiership title challenge effectively ended on Sunday when they lost to Manchester United at Anfield.
This prompted fans to call the post-match radio phone-ins asking for Houllier's head.
"People are going to say we lost 2-1 to Arsenal, Chelsea and United. But it is such a fine margin," he said.
"I am stubborn, I will keep going because I believe this is the future. There is a watershed, we have changed our style and I want to keep that going.
"There is a fine line between failure and success, at the moment it is not on our side.
"What I can say is that we will keep going and I am sure things will start going our way.
"We have to be strong mentally. The second part of the season will be interesting when we get more used to what we are doing. We go forward and will keep going forward."
Houllier also dismissed the rumours currently linking the Frenchman to the current vacant manager's post at Tottenham.
"I am flattered but I have a contract at Liverpool and intend to see it through," he said.
BBC