Tuesday 1st June 2004
BENITEZ LEAVES VALENCIA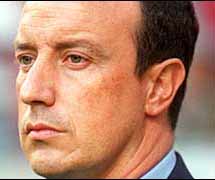 Rafael Benitez has resigned as coach of Valencia as speculation mounts he is set to become the next Liverpool boss.
The Primera Liga club had offered Benitez a two-year contract extension, but the former Tenerife coach rejected the new contract on the table.
"This had been possibly one of the most difficult decisions I have had to take in my sporting career," said Benitez.
"I'm going to take a few days to analyse the options and I will choose the one that suits me best."
Benitez, who led Valencia to the Spanish title and the Uefa Cup this season, is tipped to replace Gerard Houllier at Liverpool.
Benitez added: "I want to see it as positive that the club has tried to keep me on, but after the events of this season which have undermined my morale I have decided to reconsider my future at the club.
"I want to thank all the players, the employees at Valencia, the press and especially the fans for their support over the past three years."
Spanish media have reported Liverpool have offered Benitez a five-year deal.
Alan Curbishley, who has been in charge at Charlton since 1991, has also been linked with Liverpool, who want to name their new manager in the next fortnight.
Valencia president Jaime Orti insisted the club had done all it could to persuade Benitez to stay.
"Valencia not only did everything possible to ensure Rafa Benitez stayed on for the remaining year of his contract but also tried to get him to extend his deal with the club."
Benitez is known to have had his differences with the board and in particular with the club's sporting director Jesus Garcia Pitarch.
The two clashed at the start of the season over the control of possible new signings and Benitez expressed his dissatisfaction over the club's failure to reinforce the squad with players he had recommended.
Benitez has enjoyed unprecedented success since taking over the Primera Liga club three years ago.
In his first season in charge he led the club to the Spanish title, the first time they had won the Primera Liga in 30 years.
Benitez has also coached Real Madrid's high profile B team, as well as Tenerife, Extremadura, Valladolid and Osasuna.
BENITEZ'S CV
1981: Leaves Real Madrid without ever playing for the first team
1986: Appointed to Real Madrid's coaching staff
1995: Appointed coach of Valladolid but sacked after 23 games
1996: Takes over at Osasuna in Second Division, but lasts just nine games
1997: Joins Second Division Extremadura and leads them to promotion
1999: Extremadura relegated from top flight
2000: Appointed boss of Second Division Tenerife and leads them to promotion
2001: Appointed Valencia boss and leads them to the Spanish title. Repeats the feat in 2004 as Valencia also win the Uefa Cup.
2004: Announces decision to quit the Spanish Champions

BBCi
---