Thursday 17th June 2004
BENITEZ NAMED NEW REDS BOSS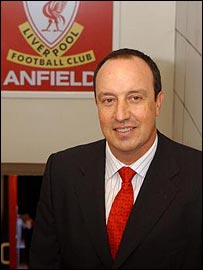 Liverpool have confirmed Spaniard Rafael Benitez as their new manager.
The announcement ends the Anfield club's search for a replacement for Gerard Houllier, who was sacked last month after six years in charge. Benitez, who won the Spanish title and Uefa Cup with Valencia last season, said: "It is like a dream to be here.
"I am very, very proud to be joining one of the most important clubs in the world in one of the best leagues in the world - and I want to win."
Benitez, who has agreed a five-year contract, also made it clear he intends to do things his way - and with style. He added: "The work of Gerard Houllier was very good but each manager has his own ideas. I think I can teach something different. "I have come here to win, and my players have to have the same mentality. "I am young, I want to win lots of matches and in the right way. I hope the players think like us that it is possible to win titles.
"I want the supporters to be proud of the team, of the manager, of the players, of the club." Liverpool chief executive Rick Parry said Benitez was their number one target.
Parry said: "Benitez clearly wanted to come to Liverpool and that shone out in every conversation we had. "He is young, enthusiastic and hungry for success." Benitez had been the favourite to take over - and had the backing of Michael Owen. And the 44-year-old Spaniard was quick to make it clear the respect is mutual.
Benitez said: "It is very important that I talk to players like Steven Gerrard and Michael Owen about my ideas. "I need players like them with a good mentality and quality."
Asked whether he will be adding to the squad, Benitez said: "If I have names on my mind I will talk to Rick Parry about them. "It is not as easy as just signing five players from Valencia. It is important for me to sign the right players for our team."
Benitez's first match in charge will be against Celtic on 26 July.
BBCi
---