Friday 18th June 2004
RAFA KEEN ON CISSE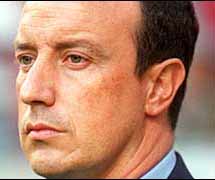 NEW Liverpool boss Rafael Benitez will finally work with striker Djibril Cisse - months after the French forward was recommended to him.
Benitez, who returned to Spain today to tie up loose ends following his appointment as Anfield manager, has revealed his coaching staff at Valencia told him to sign Cisse when he was still working in Spain.
Auxerre front man Cisse is due to arrive at Liverpool later this month in a £14million deal set up by Gerard Houllier before his departure.
"When I was at Valencia my technical director and chief scout always talked about Cisse," Benitez said.
"They said to me 'If you'd had him you would win the league for another three years'."
Echo
---