Wednesday 12th May 2004
REDS WELL PLACED IN EUROPEAN RANKINGS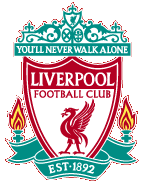 Liverpool are well placed in the European rankings, even after a relatively miserable European campaign this season.
The complex UEFA rules to work out ranking analyse each clubs European record over the past 5 years and also add in an element of all clubs performances from the country. Therefore Chelsea and Arsenal's performances, slightly help Liverpool's score, and Manchester United's as well.
The ranking system is important when it comes to deciding Liverpool's opponents in the 3rd qualifying round of the Champions League.
In fact, because the system reflects performances the reds are ranked much higher than Chelsea (currently 20th), and interesting Newcastle United (currently 27th).
The top 15 is currently as follows:
1 Real Madrid
2 Valencia
3 FC Barcelona
4 Manchester United
5 Bayern München
6 Deportivo La Coruña
7 Arsenal
8 AC Milan
9 FC Porto
10 Liverpool
11 Juventus
12 Lazio Roma
13 Internazionale
14 AS Roma
15 Galatasaray



Anfield Online
---