Friday 21st May 2004
CISSE INSISTS HOULLIER'S POSITION NOT IMPORTANT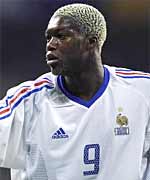 French striker Djibril Cisse insists his move to Liverpool from Auxerre will not be derailed if there is a change of manager at Anfield.
The 22-year-old does not believe continued speculation surrounding the future of Gerard Houllier will have any impact on his move to the Reds, which has been on the cards for a year but has yet to be officially confirmed.
"From my point of view it does not matter if Houllier is at the club, absolutely not," Cisse told the club's official website.
"I still want to go to Liverpool. Gerard Houllier's position makes no difference. I want to wear the shirt of this club. Whatever the position of Houllier, it will not change my attitude."
World Soccer
---