Sunday 23rd May 2004
RUMOURS SUGGEST HOULLIER TENURE OVER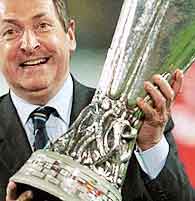 Yesterday Gerard Houllier was 100% confident that he would be at Anfield next season, but the continued refusal of the board to come out and back the boss means that Gerard is almost certain to be out of the hot seat very shortly.
And the Guardian today published this article:
Gérard Houllier's increasingly fraught six years in charge of Liverpool will end today when he meets chairman David Moores for talks.
The manager's departure will be confirmed in an official announcement tomorrow, which will describe the split as amicable. On the list of likely replacements being compiled by chief executive Rick Parry are Charlton boss Alan Curbishley, former Southampton manager Gordon Strachan, Middlesbrough's Steve McClaren and Rafael Benitez, whose Valencia side have just won a double of La Liga and the Uefa Cup,.
Moores has finally accepted that the growing clamour for Houllier to go has to mean the departure of the once-favoured son. He won the respect of everyone involved in the game, undergoing heart surgery in 2001, after leading Liverpool to a treble of the Uefa Cup, FA Cup and League Cup.
Houllier is understood to want to stay in club management and either Tottenham or Celtic, if Martin O'Neill leaves, could be interested in his services. The Parkhead club tried to hire him before he went to Liverpool, the club he supported, in 1998. O'Neill has been linked with the Anfield job and is thought recently to have rebuffed overtures from Spurs.
Developments in the next 48 hours will finally end one of the most protracted departures of recent times. Just yesterday, the Frenchman was claiming he was 'one hundred per cent sure I will be here next season' and describing suggestions that he was about to leave as 'a load of rubbish'.
In his defence, Houllier drew attention to his record in steering Liverpool to qualification for the Champions League in three of his six seasons in charge, half of the first in 1998-99 in an unproductive partnership with Roy Evans.
But his side's failure to challenge Arsenal and Manchester United's stranglehold on the Premiership, the poor performance of many of the players he bought and increasing discontent among the fans have brought about his downfall.
Steve Morgan, the property magnate and Liverpool shareholder who has seen three attempts to invest further in the club turned down, is an outspoken critic.
Houllier is admired by senior figures at the Football Association for his technical knowledge of the game, and was discussed as a possible replacement for Sven-Göran Eriksson recently, when it looked like the Swede would be joining Chelsea.
The Frenchman, as technical director of the French Football Federation in the 1990s, helped lay the groundwork for his country's rise to becoming world and European champions in 1998 and 2000 respectively, although his stint as national-team boss ended in failure when les Bleus did not qualify for the 1994 World Cup.
The FA has lacked a technical overlord since Howard Wilkinson's departure, but it is thought he has lost some kudos with the FA top brass.
He is likely to wait and see what openings the summer break may produce in club management, in which he first made his name in the 1970s and 1980s.
Anfield Online
---