Wednesday 26th May 2004
MOURINHO FIRES WARNING TO CHELSEA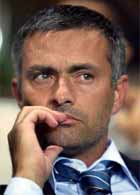 THE most in-demand coach in football made it crystal clear yesterday that when he heads to pastures new he will do it his way - or not at all.
Both Liverpool and Chelsea are interested in bringing the highly-rated Portuguese coach to the Premiership.
Although the Porto coach was giving little away yesterday there was an implicit warning for Chelsea owner Roman Abramovich in his words as he prepared for the Champions League final against Monaco in Gelsenkirchen.
The Russian billionaire has already displayed his desire to become involved in player purchases, but he may find such meddling goes down with Mourinho about as well as out-of-date caviar.
Mourinho, who would not discuss whether he had signed a pre-contract agreement with Chelsea saying merely "it's a private question between me and Porto", left no doubt that team affairs would be his business.
He said: "I can't imagine a successful club without a very good relationship between the manager and the board. It happened once in my life when I was coach at Benfica and I walked out.
"Porto is a very good example of a successful club and I think the success was built with everybody having the same motivation and everyone fighting for the same objective."
If Chelsea or Liverpool do get their man, they will have secured a coach who is eloquent, organised and an excellent tactician, but also forthright and supremely confident in his own abilities.
Mourinho held court for 45 minutes yesterday outside the venue for tonight's final, the fantastic, futuristic SchalkeArena in Gelsenkirchen, a town in the Ruhr.
Cool even under intense questioning and changing effort-lessly between Portuguese, Spanish, English and French, Mourinho insisted that the constant speculation over his future had not distracted either himself or his players.
He said: "It has not influenced me. I said a few weeks ago that I didn't want to know anything about clubs, presidents, agents and if you ask the players they will say exactly the same.
"Everyone is fully concentrated on this. Thursday is the future but this match and this cup deserve 100% from us and I must be an example for the players.
"I don't know if it's my last match for Porto, what I know is that it's the most important match of my career, the match I have worked for for two years."

Daily Post
---