Wednesday 3rd August 2005
ANFIELD ONLINE NEWS
CROUCH INJURY REACTION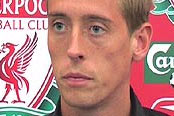 Peter Crouch is set to miss the beginning of the reds season after a hamstring injury he sustained in last night's match against FC Kaunas in the Champions League.
An early September return has been pencilled in for the £7 million striker.
Rafa Benitez is not overly worried at this point however:
"The partnership between Crouch and (Djibril) Cisse was working well. We have Cisse's pace and the alternative qualities of Crouch.
"Against Kaunus we had decided that in the second half we needed to play the ball in the air more, but unfortunately the plan only lasted a few minutes of the second period.
"We could see that Peter was holding the back of his leg and we decided to change him quickly because it was obviously a hamstring problem.
"You need to protect players in such situations to avoid even worse problems.
"I don't think we are short of numbers up front. We have let Anthony Le Tallec go out on loan, but we have (Milan) Baros, (Fernando) Morientes, Luis Garcia, Cisse. They are all good players."
Crouch himself was circumspect:
"I have no real idea how long it will be.
"I was enjoying my home debut, it was great to finally get the chance to play at Anfield because we have been on the road for a long time since I signed.
"I would have wanted to finish the game, obviously, so it was really frustrating to pick up an injury like that.
"I was beginning to really enjoy things, so the hamstring was a real disappointment."
News report filed by The Editor