Tuesday 23rd August 2005
ANFIELD ONLINE NEWS
BENITEZ PREPARES FOR SOFIA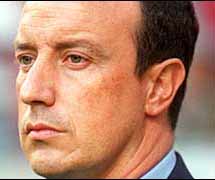 Rafa Benitez is not expecting to rest too many big names for the Super Cup final, making it known that tonights match is very important with Champions League qualification so heavily dependant upon it.
"I will rotate my squad, change some players but always with the idea of fielding a strong side.
"But always you must be careful of what the other team could produce - you never know."
"If they score one goal then we will know it is a harder game.
"We do not want that and we must go into the game intent on winning and using other players when we are in a good position to do so."
He added: "I have a lot of respect for Sofia and they play well in attack.
"But we have another game on Friday in Monaco and this is the time to use the squad, to give players some rest and to field a side that will still be strong and do the job for us.
"If we want to be sure we must score as soon as possible and the game will be finished.
"They will try hard from the start, with a very high tempo, and we expect that but we hope that we can end the tie early.
"We need to win the first game to be in the Champions League, that is the first objective.
"Then the second game against CSKA Moscow in the Super Cup means we can win a trophy - we will use two good teams in both games and have the possibility to do that."
Didi Hamann is expected to replace Gerrard in the line up, with Scott Carson expected to get the nod ahead of Pepe Reina.
News report filed by The Editor