Monday 12th December 2005
ANFIELD ONLINE LFC NEWS
FANS SPLIT OVER RIISE'S ROLE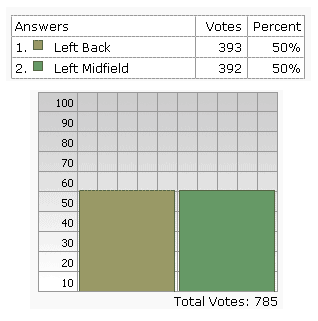 Our most recent poll asked which was the best position for John Arne Riise, and after 10 days of voting all we have learned as that we're split right down the middle (unlike the Norwegian).
We asked:
Which is Riise's best position: Left Back or Left Midfield?
As you can see the results could hardly have been any closer.
Ah well, another issue decided by the Anfield Online poll. Vote in this weeks poll on the top left of this webpage.
The Editor