Wednesday 28th December 2005
ANFIELD ONLINE LFC NEWS
BENITEZ STILL SEEKS IMPROVEMENT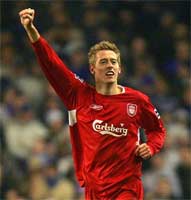 Have you ever known a manager more dedicated to the pursuit of footballing excellence. Liverpool dominated Everton in tonight's 3-1 victory but Rafa still found areas where Liverpool can improve.
Speaking after the game Benitez said: "I am very happy but at times in the first half Everton caused us problems in the air and we were not winning second balls. We can play a lot better and have played better this season.

"The team is playing well and with confidence. We knew before the game it would be physical and we knew what to do. The whole team worked hard, everybody.

"We started at a high tempo and we knew they would make some mistakes and we wanted to take advantage of that.

"The big difference for us this season is we know how to handle the physical games and we have players like Sissoko, Crouch and Reina who have helped us do that.

"Crouch is playing well and scoring goals for us and I'm very happy with him but the most important thing is he continues to play well. Before the game I wanted to use two different kinds of players against Everton and play Cisse with Crouch. Cisse has the pace and can run into wide areas and Crouch is good in the air and can hold the ball up."
The Editor