Sunday 15th May 2005
ANFIELD ONLINE NEWS
CISSE STRIKES LEAVE REDS HOPEFUL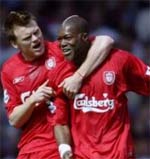 Djibril Cisse ended the Premiership season with a double goal strike for the reds in what has been an amazing season for the French striker.
With Milan Baros starting the game on the bench, he could only look on as Cisse who spent most of the season out after a horrific leg break converted a penalty before scoring another seven minutes later.
Rafael Benitez now faces a selection problem for the European Cup final in 10 days times, but Liverpool fans will already be looking forward to the next Premiership season, hopefully with Djibril Cisse in this kind of form.
News report filed by The Editor