Tuesday 4th April 2006
ANFIELD ONLINE LFC NEWS
FOWLER UNSURE OVER LIVERPOOL FUTURE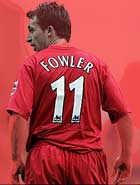 Liverpool striker Robbie Fowler admits he is still in the dark over whether he will be offered a new deal at Anfield.
Fowler rejoined the club on a six-month contract in January and is determined to prove to manager Rafael Benitez he is worth an extension.
The 30-year-old is now Liverpool's fifth highest goalscorer after finding the next in Saturday's 2-0 win at West Brom.
Fowler told the Liverpool Echo: 'It's a bit of a weird situation really because when most players have six weeks left of a season or contract they want their future sorted out.
'I'm different because I really don't mind waiting until the end of the season. I just want to stay here. I just hope I get a positive answer when it comes.
'I've had no indication what the decision will be yet. I've known from the start this is just a short-term deal and the decision won't be taken lightly by the manager.
'He's obviously not made up his mind yet, or if he has he hasn't told me about it. All I can do is sit and wait. If he comes to me and says there is a new contract there, no-one will be happier than me.'
Fowler's goal at The Hawthorns was his second since returning after also scoring against Fulham.
He added: 'It's not really for me to say if I've done enough. In an ideal world I'd love to have scored more goals, but I don't think I've let anyone down.'

Discuss this news item with other fans in our forum
Soccernet