Friday 7th April 2006
ANFIELD ONLINE LFC NEWS
CROUCH NEEDS TO IMPROVE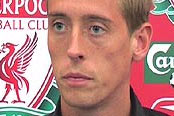 Peter Crouch today said he needs to keep on improving or he will be out of Anfield on his ear.
"You've got to keep progressing at a club like Liverpool, no matter how well you may think you've done in the past," said Crouch.
"You don't stay at a club like this unless you try to improve and continue to work on your game, and that's what I'll be doing.
"That's the same for all play-ers and I'm certainly not going to sit back. I've got to keep on my toes and push on and do as well as I can. I want to crack on from here.
"In many ways I see next season as an even bigger one for me. I want to do more. I want to be here for a long as possible. This is a great club and the place where I want to play my football.
"When you're at Liverpool, you've got to keep your standards high. We've players here who've achieved that over many years, such as Sami Hyypia, Jamie Carragher, Steven Gerrard and John Arne Riise.
"They're lads who've been performing week in, week out over many years. They've set a benchmark and they're players I look up to.
"All aspects of my game can be worked on. The manager never asks us to look at one thing in particular, but is always looking or us to improve.
"From my own point of view, I hope I can make everything about my play better.
"That starts with the games we've got coming up because we need to finish as high as we can in the league and think about winning the FA Cup."

Discuss this news item with other fans in our forum
Anfield Online