Saturday 8th April 2006
ANFIELD ONLINE LFC NEWS
STELIOS TV APPEAL FOR MISSING REDS FAN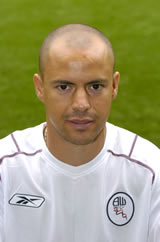 Bolton midfielder Stelios has launched a television appeal to assist the search for a Liverpool supporter who went missing in Crete last year while on holiday with friends.
Stelios made a plea on Greek Television asking for help from his fellow countrymen to locate Reds fan Steven Cook, now 21, who went missing at the beginning of his holiday back in September 2005.

The appeal was also to be shown on BBC North West on Friday night.
Despite several visits to the island by members of Steven's family and appeals on local and Greek Television there have been no confirmed sightings of Steven.

It is hoped that an appeal by such a highly-recognised and respected footballer will help highlight Steven's case as the new holiday season begins.

Stelios explained: "Steven is very much missed by his family and friends who want nothing more than for Steven to return home safely so they can get on with their lives once more. I am asking that if you saw anything suspicious in Malia on the night he disappeared or if you have seen anyone matching Steven's description, then please contact one of the following numbers below. Your help is needed."

British Consulate Crete: 0030 2810 224 012
British Consulate Athens: 0030 2107 237 727
Malia Police: 0030 2897 026 900
Cheshire police: + (0)1244 613511

A website has been set up should anyone have any information, no matter how small, about Steven's disappearance:

www.findstevencook.co.uk

To contact Steven's family, address emails to: pleasehelp@findstevencook.co.uk

Reds fans can make their appreciation known to Stelios for his help in this very serious matter on Sunday when Bolton arrive at Anfield.

Discuss this news item with other fans in our forum
Official Website