Monday 10th April 2006
ANFIELD ONLINE LFC NEWS
GONZALEZ: ARE YOU WATCHING LFC?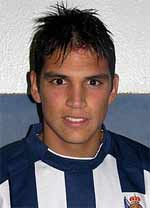 Mark 'Dennis' Gonzalez, the man that Liverpool have not been able to use due to the UK government, remains committed to the Anfield cause.
Gonzalez was instrumental in the 1-1 draw for Real Sociedad against Real Madrid at the Bernabeu this weekend, scoring Sociedad's equaliser and was awarded man of the match.
He ran Madrid's defence ragged throughout and got his reward on the hour by taking advantage of an Iker Casillas mistake to level the scores after Ronaldo's first-half opener.
Mark, spoke out after the match, and it is clear Liverpool is at the forefront of his mind and he is still furious about the decision by the Department of Trade & Industry to deny his work permit.
"I hope Liverpool's fans saw me, and the people who decided not to give me permission to work in England saw it, too. It would be absurd if I did not end up playing for Liverpool.
"After two years in Spain, in May or June, I'll qualify for Spanish residency. Then I can apply for my EU passport, but it would be in the hands of the Government."
Mark, we can't wait to see you in a Liverpool shirt.

Download: Watch the goal Gonzalez scored two weeks ago against Getafe

Discuss this news item with other fans in our forum
Anfield Online