Monday 10th April 2006
ANFIELD ONLINE LFC NEWS
FIND STEVEN COOK CHARITY AUCTION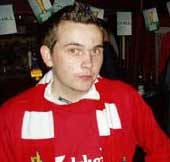 Reproduced from the YNWA site.
Bid for a piece of Liverpool memorabilia to aid in the search for Steven Cook, the reds fan who went missing on the 1st September 2005 on the Greek island of Crete.
To help raise funds which will allow the Cook family to continue their search for Steve over in Crete, we are delighted to announce that we will be holding an auction of Liverpool and football memorabilia at the Oakfield pub (right by Anfield stadium - click here for the map after the last home game against Aston Villa of the season on 29th April.
Items available include a Champions League final programme, Champions League final ticket, biographies on Rafael Benítez, match programmes and LFC magazines all signed by Liverpool manager Rafa Benítez; a Tranmere Rovers shirt signed by John Aldridge; a pair of boxing gloves as worn by Naseem Hamed; signed LFC footballs from the 2001 and 2006 squads; signed portrait of Sean Long from St Helens Saints plus other Saints items; some signed books from Tony award-winning, and Oscar nominated Liverpudlian writer Willy Russell; an 95/96 LFC shirt signed by Stan Collymore plus many other bits of memorabilia.
Many other items are being added day by day some of which will only be available to those attending on the night.
For those fans unable to attend the function, you can view the items on http://teveookuctionakie29thpril2006.fotopic.net/ - each item has its own unique code starting with SMC_nnn. You can reserve a bid by emailing chriscook75@googlemail.com.
Please ensure you enter the correct code and the maximum amount you are willing to pay for that item, and how you wish to pay. You must also ensure that you have entered your full name and postal address and a contact number.
Winning items can either be paid with by cheque, paypal or for those attending the function – by cash.
The family would like to take this opportunity to thank all of those who have helped to make this possible: Kev for the idea and for driving us on with it! Carl and Tony at the Oakfield pub for providing the venue and donating the Naseem Hamed gloves, Gravy for the signed Collymore shirt, Steve Hallmark for the signed Tranmere shirt, Bill and Steve from the St Helens Star for organising the Saints stuff, Jez and Nick at the Widnes World for the Vikings stuff, Andrew at the Crewe Guardian for the signed 2001 LFC squad ball, Rob for the Willy Russell books, Carl (again!) and Chris for the menu signed by Aldo, Beckie for getting all of the items signed by Rafa, WBA for the promise of a limited edition pennant, MBNA bank for a ball signed by the 2006 squad, Case for donating a load of Liverpool FC related books and newspapers from the days following No.5, Liverpool football club (and Kev!) for a ball signed by the 2006 squad, NUFC for helping to organise getting two England shirts signed by Michael Owen, Rob at Crewe Alex for organising a signed shirt, the Lancashire Evening Telegraph for trying to organise a signed Blackburn Rovers shirt, and everyone else, including who is helping us to obtain items for the auction, plus of course everyone at YNWA and RAWK for their continued support - we truly do not walk alone.
For further information visit: www.findstevencook.co.uk

Discuss this news item with other fans in our forum
www.findstevencook.co.uk / www.ynwa.tv