Tuesday 11th April 2006
ANFIELD ONLINE LFC NEWS
RAFA OUTLINES PRE-SEASON INFO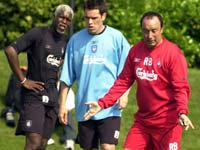 Rafa Benitez is already planning a less strenuous pre-season schedule for Liverpool to ensure post-World Cup fatigue doesn't under-mine next year's title assault.
Several players will complete a full 12 months of competitive football in Germany, and Benitez is anxious to ensure his stars get the recuperation time they need.
That means the Reds are set to avoid any tiring long-haul trips to the Far East or America this summer.
England stars such as Steven Gerrard, Jamie Carrager and Peter Crouch played their first competitive game of this season in the Champions League last July.
If Sven Goran Eriksson's side goes all the way in Germany - the World Cup final is on July 9 - it will complete an unprecedented campaign for the Anfield trio.
The Spanish contingent fall into the same category, and Benitez is eager to ensure the knock-on effects of the World Cup don't affect his squad next season.
"We have ideas of where we'll go on pre-season and when. We'll also set different times for players to return, depending on how far they get in the World Cup," explained Benitez.
"If England reach the final against Spain, we'll have a lot of players involved. Those players will need more time to rest.
"We still need plenty of time to work with the players during pre-season because it's an important period. Usually, we like to start seven weeks before the start of the new season.
"But with some players, it may be impossible. They'll need at least 15 to 20 days break after the World Cup is over.
"We have a lot of invitations to play in pre-season events all over the world, but we need to make sure the team has the best conditions to train.
"The priority is going to be to prepare the team properly, so the idea is to return to our camp in Switzerland again.
"I don't think we'll be going to different continents this time."
Liverpool travelled to Singapore in 2001, Bangkok in 2001 and 2003, and Hong Kong and New York in 2004.
Last season, they were forced to cancel a planned tour of Japan due to their Champions League commitments, but returned to the Far East for the World Club Championships last December.
Although such tours can be moneyspinners, the schedule since Liverpool won the European Cup last May has been particularly hectic.

Discuss this news item with other fans in our forum
Liverpool Echo