Thursday 13th April 2006
ANFIELD ONLINE LFC NEWS
OWLS TO MARK TRAGEDY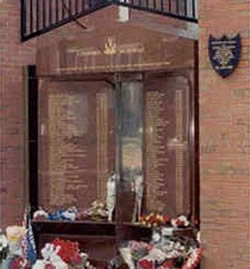 The Sheffield Wednesday match with Norwich City will kick-off at 3.15pm this weekend to remember the 96 Liverpool fans who died in the Hillsborough disaster.
The Bishop of Sheffield, the Right Reverand Jack Nicholls, will lead the tributes on the 17th anniversary of the disaster this weekend.
The Owls board of directors agreed to move the fixture to 3.15pm so the teams aren't playing at 3.06pm - the time when the FA Cup semi-final between Liverpool and Nottingham Forest was abandoned in 1989.
The club chaplain Reverand David Jeans will conduct the annual memorial service outside the South Stand where the memorial stands next to the River Don.
The Football League has also issued all clubs with black armbands to wear in rememberance of the victims over the Easter weekend.
A minute's silence will also be held before kick-off.

Discuss this news item with other fans in our forum
Anfield Online