Friday 14th April 2006
ANFIELD ONLINE LFC NEWS
BENITEZ: REDS KEEPER IS COMPLETE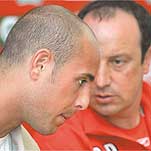 Rafael Benitez has been talking about Liverpool's number one.
"For me Pepe is the complete goalkeeper and he has done a very good job for the team," enthused Benitez.

"All the team have done a good job as it's really difficult for a goalkeeper to keep clean sheets unless he has a good defence. When I signed Pepe I said he was the best goalkeeper in Spain and I now think he is one of the best keepers in England.

"He is so quick off his line and reads the game very well and has made some good saves for us this season. He is also very good in the air and when he came to England I told him that the strikers would be more agggressive than they are in Spain and it would be better sometimes to punch the ball. He gets good distance with his punches and it is very important for us."
Poor Jerzy Dudek eh...

Discuss this news item with other fans in our forum
Anfield Online