Wednesday 19th April 2006
ANFIELD ONLINE LFC NEWS
SINAMA FACING ANFIELD EXIT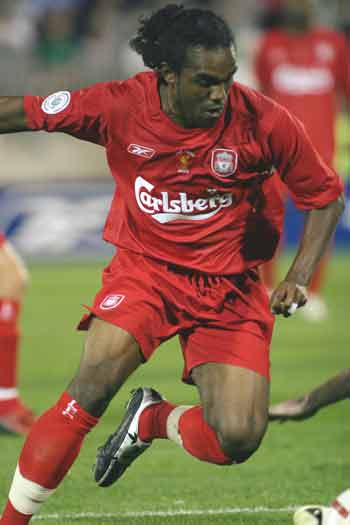 Florent Sinama Pongolle is ready to quit Liverpool this summer if boss Rafael Benitez signs any more strikers.
Pongolle will return to Merseyside at the end of the season after a relatively successful loan spell with Blackburn.
The 21-year-old forward jumped at the chance to join Rovers towards the end of the January transfer window due to growing frustration at his lack of chances under Benitez.
The situation was made worse with the arrival of Robbie Fowler - who scored his fourth goal in five games to sink Blackburn at Ewood Park on Sunday - on a short-term contract.
Benitez has yet to decide whether to offer Fowler a long-term deal, however if the Spaniard decides to do so, that is certain to signal Pongolle's departure from Anfield.
"Because I still live around Liverpool, people ask me when I am coming back," said the 21-year-old, who could return to the Rovers side for Wednesday night's league clash at relegation-threatened Birmingham.
"But what happens with Fowler could have an impact. If he [Benitez] signs two new strikers, I won't go back. It would be impossible.
"I'm 21 years old and I need to play, I want to play. It's difficult and frustrating when you are sat on the bench and not involved in a game.
"At Liverpool, even if I played well or didn't play well, I never knew whether I was going to play the next match.
"As a striker, that makes things really difficult in your head because you need confidence to score goals.
"So that's what I need - to start a game, enjoy my football and not think whether I am going to play the next match or not."
Pongolle claims Blackburn have approached his agent regarding the possibility of making his loan move permanent.
That is a situation he would be happy with, although he is refusing to nail his colours to any mast, despite enjoying his time under boss Mark Hughes.
"I know Blackburn have spoken to my agent about staying, which is good for me," added Pongolle, who has played seven matches for Blackburn, starting six.
"But nothing has been decided. I'm still thinking about my future because I know I face an important decision at the end of the season.
"Blackburn have at least given me a chance to play games, and under the manager, everything is different. He speaks to me more.
"I have played under a French manager in [Gerard] Houllier, a Spanish manager in Rafa, and now a British-style manager in Hughes.
"I feel it is a proper experience, and I have learned a lot.
"But I cannot forget there have been good moments with Liverpool. Last season was brilliant, and I have a lot of memories.
"When you meet the fans and they remind you of that, that's really important, particularly when you are not involved.
"But I don't want to just play the odd game here and there. I want more games to have more of an impact in the Premiership."
For now, Pongolle is determined to play his part in helping Rovers claim a European place for next season.
Although seven points behind fourth-placed Tottenham, Pongolle feels they can still clinch a Champions League spot.
"If you look at the gap, it's not impossible," insisted Pongolle.
"Anything can happen in football. Look at what happened to Liverpool last season in winning the Champions League. It shows how quickly things can change.
"We probably need to win all our remaining games, but I know we can do it, and I'm really confident about it.
"It's going to be hard, but we have the team, squad and staff to claim that place. We really believe we can do it."

Discuss this news item with other fans in our forum
Anfield Online