Wednesday 19th April 2006
ANFIELD ONLINE LFC NEWS
NANDO TO BREAK CHELSEA'S DOUBLE DREAMS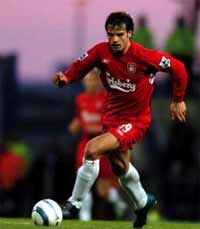 Fernando Morientes has fired the opening salvo in the build up to the Chelsea clash - insisting the reds can end Chelsea's dreams of a double.
Liverpool face Jose Mourinho's side, a point away from retaining their Premiership crown, in the FA Cup semi-final on Saturday at Old Trafford.
And Morientes, expected to partner Peter Crouch in place of the cup-tied Robbie Fowler, is hoping to cause a mini-upset and deny the champions-elect their first-ever double.
The Spaniard said: "Chelsea were a much harder outfit to beat earlier in the season when they were winning games with plenty to spare.
"Both in defence and in attack they were playing very well but now maybe the events of the season are catching up with them a little bit. They haven't always been winning games with as much ease.
"They don't have that invincible air about them anymore and we can take advantage of that if we perform on the day.
"The fact we are playing Chelsea will be a huge motivation for us to go out and perform."
Although third-place Liverpool would have to go through a Champions League qualifier in the summer unless they overhaul Manchester United for runners-up spot, Morientes revealed that he was prefer to get his hands on some silverware.
He said: "If I had to choose between being runners-up or winning the cup, I'd want the cup.
"I'd settle now for playing a qualifying round in the Champions League next season if it meant we had another trophy in the cabinet.
"Whenever you get a chance to win a title you have to grab it. I'd settle for the FA Cup and third place right now. That would be a good season."
Morientes also reiterated his desire to stay with Liverpool next season despite speculation that he could return to Spain after a difficult 15 months at Anfield.
But the former Real Madrid and Monaco striker insisted he wants to remain in England and become a Premiership hit.
He said: "I signed a contract for four years and I want to see that contract out. I want to stay here because over the next few years I am confident we are going to enjoy a lot of success on the field. The future is very bright here.
"At the same time you never know what the future is going to bring, especially in football.
"Four years is a long time. But, speaking today, I am happy at Liverpool and I want to stay here.
"I'm very happy. I love Liverpool, I love the fans and I am very confident I'll come through my difficult spell here and score lots of goals in the future."

Discuss this news item with other fans in our forum
Daily Post