Thursday 20th April 2006
ANFIELD ONLINE LFC NEWS
RAFA: MY CAPTAIN NOT FOR SALE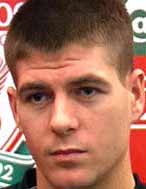 Rafa Benitez has insisted he wont waste any more time discussing Steven Gerrard and Madrid.
Real Madrid football director Benito Floro said earlier this week that he wanted to sign the England midfielder.
Benitez told reporters, however: "Steven Gerrard is not for sale. I don't want to waste my time talking about it.
"I have spoken to Steven and he knows the situation. He's a good player and people will always talk about him."
Gerrard was close to signing for Chelsea two years ago but has since signed a new contract at Anfield.

Discuss this news item with other fans in our forum
Reuters newswire