Saturday 22nd April 2006
ANFIELD ONLINE LFC NEWS
RUSH: REDS COULD HAVE WON TITLE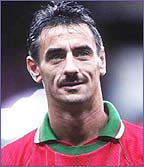 Ian Rush reckons the reds could have won the title this season if they had a 20+ goals striker.
And Rush, who scored 44 times in the FA Cup during a glittering career, believes Liverpool can end an agonising 16-year wait for the title next season - as long as they sign a dynamic striker. "Liverpool's problem is they haven't got a striker who can get 20 or more goals a season," said Rush. "If they had a striker like that, they would be champions by now.
"The strikers they've got work hard, and that helps the team keep clean sheets. But if they had someone that little bit special, who could score a load of goals, Liverpool would be different.
"They're looking for an out-and-out goalscorer and a right-sided midfield player. And if they can get two quality players in those positions, they'll be in a great position to challenge for the title.
"It's important now that the likes of Liverpool, Manchester United and Arsenal start to challenge Chelsea, because up to now it's been a bit too easy for them." After failing to keep pace with Chelsea in the Premiership and coming up short in the Champions League and Carling Cup, the FA Cup is Liverpool's last chance of a trophy.
"Every time Liverpool have gone ahead this season, they haven't lost," said Rush. "That shows they can hang on to a lead, because they are so solid at the back. That's why Liverpool need to score first against Chelsea. If they do that, they'd win.
"Liverpool are coming good at the right time and they'll be determined to stop Chelsea from doing the Double, as well as winning a trophy themselves."
And Rush believes Benitez has learned his lesson after Liverpool's abject FA Cup exit to Burnley last year in the Spaniard's first season.
"Rafa may have underestimated the FA Cup last season," said Rush. "The fans weren't happy and they're more determined this season as a result. In England, the FA Cup is still huge, despite the growth and importance of the Champions League. It still means so much to the fans and players."
"Stevie would only go if he was told he wasn't wanted by Liverpool," said Rush. "That's not the case and I can't see him wanting to go to Real Madrid.
"Liverpool are getting better and if they could win the FA Cup, that would give them the perfect platform to challenge for the title next season."
Talk about this news story with other fans in The LFC Forum
Mirror