Saturday 22nd April 2006
ANFIELD ONLINE LFC NEWS
CLASSLESS MOURINHO REFUSES TO SHAKE RAFA'S HANDS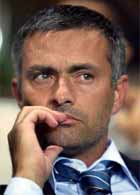 Chelsea manager Jose Mourinho showed a distinct lack of class after failing to shake Rafa's hands after Liverpool dumped Chelsea out of the cup.
Jose Mourinho who bought his Chelsea team with Abramovich's millions refused to shake Rafa's hand after it was offered by Liverpool's boss at the final whistle.
During the post match interview Jose refused to congratulate Rafa Benitez citing bad refereeing decisions and 'wishing' Liverpool luck in qualifying for the Champions League.
Chelsea, a club with no history, will therefore feel no embarrasment at their manager's actions. But we all know no Liverpool manager would ever act in such an arrogant petulant manner.
2-1 to the European Champions. Enough said.
Talk about this news story with other fans in The LFC Forum
Mirror