Saturday 22nd April 2006
ANFIELD ONLINE LFC NEWS
WHINGING MOURINHO WON'T END LIVERPOOL FEUD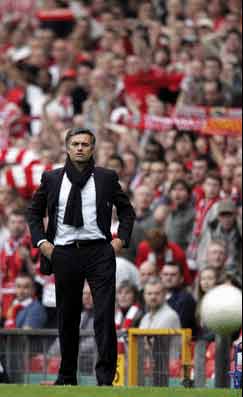 Poor old Jose, the most unsporting manager in English football, remains in awe of Rafa Benitez as his comments after today's cup exit prove.
Just like last season he claimed the best team didn't win, and insisted he cannot wish the reds good luck for the final.
Mourinho said: "Did the best team win? I don't think so. In the last 30 minutes we deserved extra time."
Mourinho added: "In the first half nobody was better. They had a good start to the second half but then we dominated the game. I cannot wish them luck in the final. Middlesbrough and West Ham will be there and I must respect them."
Mourinho does not believe it is a sign that Liverpool can challenge for the Barclays Premiership title next season.
He said: "In the Premiership they have no chance. Over 40 matches no chance. Maybe they will surprise me and they can do it.
"But in 10 matches against us they have won twice. In the Premiership the distance between the teams is 45 points over two seasons. We beat them in a final, they beat us in two semi-finals. A psychological advantage? I don't think so.
"In four matches in the Premiership we beat them four times."
He added childishly: "I wish them luck for their qualification match in the Champions League."
Talk about this news story with other fans in The LFC Forum
Anfield Online