Wednesday 25th January 2006
ANFIELD ONLINE LFC NEWS
FINNAN AIMING FOR RED BOUNCE-BACK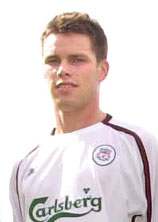 Steve Finnan has been speaking about the disappointment of the weekends game and how the Liverpool players are keen to get back on the winning trail:
He said: "What happened at the weekend was a huge disappointment, but it's gone now. It's over and there's no point looking back at it.

"It probably took a couple of days to get over the disappointment because we didn't deserve to lose and, to be honest, it was weird to once again experience what a defeat felt like because it had been so long.

"The manager has been stressing the positives to come from Sunday's game and we can certainly take a lot from it.

"This is a key stage of the season for us and there are lots of big games coming up. It's important now that we bounce back straightaway and look to go on another good run - starting this weekend at Portsmouth."

The reds go to Fratton Park for the FA Cup clash on Sunday evening.

He said: "A game away from home against a Premiership team is never going to be easy. We could have had a kinder draw but we have to be confident that we can go there and get the right result.

"Portsmouth is always a difficult place to play. Their fans get right behind them and the atmosphere is really good. They have a lot of new players as well so they may feel they will enjoy an improved run from now on, but we have to go there and play our game. If we do then we can get the result and make up for going out of the competition down there a couple of years ago.

"We want to enjoy a good run in the FA Cup this year and I think we proved that with the way we came back at Luton. Last year was a bad one for us in this competition because we went out so early, but this time around we're hoping for better things.

"The FA Cup is special for the fans to watch and special for players to play in. We want to stay in it for as long as we can and hopefully go all the way."

Official LFC