Sunday 29th January 2006
ANFIELD ONLINE LFC NEWS
REDKNAPP SCARED OF CROUCH REUNION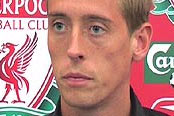 Portsmouth manager Harry Redknapp, former manager of Peter Crouch, has spoken about the tall striker and how he will be an important Liverpool threat.
"He will win headers, no doubt, but what we have to do is ensure he wins them 12 to 15 yards out rather than six," said Redknapp.

"He will certainly be a threat. I have always rated him and it was no surprise at all for me when he broke into the England squad. He is a good professional, a good player and a smashing person. I hope he goes to the World Cup with England and I am sure he will.

"For me, he is the perfect substitute to put on as a foil for Wayne Rooney or Michael Owen because, big as he is, he has a great touch on the floor as well."

"Two years ago I was in charge when we managed to win a fantastic tie against Liverpool, and last season Southampton beat them in the league when I was the manager," added Redknapp.

"I just told the players then to go through Crouch with everything. Now Liverpool are on a great run and looking a fantastic side. It could do us a lot of good if we got a result against them."
Official LFC