Sunday 29th January 2006
ANFIELD ONLINE LFC NEWS
PARRY HAD TO FORCE FOWLER TO LOOK AT CONTRACT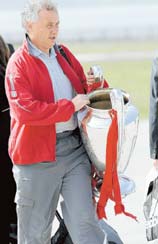 Robbie Fowler couldn't even be bothered looking at the contract to sign for Liverpool and the Chief Executive Rick Parry admitted, it could have had no salary on it for all Robbie was interested.
Rick Parry was speaking ahead of today's Portsmouth clash to Radio Five Live about the return of Robbie to Anfield:
He said: "We hope this is the spark for his career"
"On Robbie's part there is no lack of motivation. We hope it works out and he hopes for sure it works out."
Fowler has struggled to find his best form since his departure from Liverpool in 2001 and he had an unhappy time at City where he had to be talked out of retiring from the game.
Parry added: "Again, as a measure of his desire, the idea of coming short term was no factor at all. No problem.
"I've never known a transfer happen quite so quickly, it was all done within 24 hours.
"I had to persuade Robbie to look at the contract. I think I could have put a contract in front of him with no money on it and he'd have signed it!
"He really was that desperate to come back.
"The point to stress is that first and foremost this was a football decision and it was manager Rafa Benitez's judgment he would strengthen the team."
Official LFC