Sunday 29th January 2006
ANFIELD ONLINE LFC NEWS
RAFA: WE DID JUST ENOUGH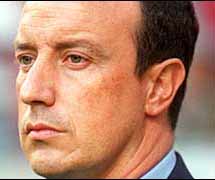 Rafa reckoned today's game was a tough one, and almost suggested the reds were lucky to go through!
"It was a difficult match for us and Portsmouth put us under a lot of pressure in the second half but I am happy to go through to the next round," explained Benitez.

"After the first half we were thinking the match was over but Portsmouth did well and it wasn't easy for us. We did create some good chances in the second half but you need to take them to make sure the match is over. We didn't do that but we are pleased to win the game."
Official LFC